Ok class, let us take a moment to think back to the era of the 'side-scrolling' game. Now raise your hand if you can remember titles like Pitfall, Double Dragon, Defender, Super Mario Brothers, Sonic the Hedgehog. Any one? Any one? Ok, I see a few of you out there with your hands raised. Good, now, of those with your hand raised, how many people thought that this format was long gone? Looks like the same amount of you share this same thought. Well class, there are two things I'd like to go over today. First off, there will be no chewing gum in class, and second and most importantly  the side-scroll format is back and better then ever!!!
I introduce to you, the Xbox Live Arcade exclusive Shadow Complex. Winner of nine E3 2009 awards, including Best in Show. Shadow Complex comes to us by EPIC Games and developed by Chair Entertainment. Using the Unreal Engine 3, Chair Ent takes us back to the time in which side-scrolling 2D & 3D graphics were standard, but they do a heck of a lot more than that. Shadow Complex is excellent adventure/shooter that'll keep you locked in for a good 10 hours of game play.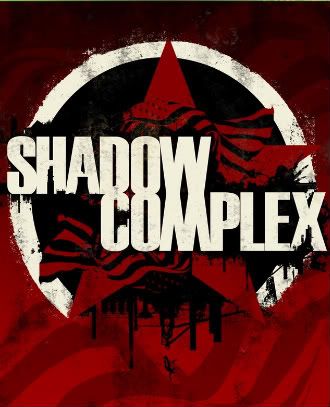 The game begins with your character and girlfriend out in the wilderness hiking and about to venture into a cavern for a little spelunking, or cave exploration. A very short way into the decent, a leisurely day of nature takes a sudden turn when your girlfriend is missing and you stumble upon what seems to be some sort of a secret military, underground research facility. Not knowing exactly what you're in for, you move from area to area, attempting to stay out of sight of security cameras, robot gun turrets, and patrolling soldiers and henchmen by way of either the straight on route from door to door, or more of a "Mission Impossible" style route by using air & ventilation ducts.
As you make your way through the facility you obtain a weapon, which has an infinite amount of ammunition, yet needs to be reloaded after a certain amount of shots fired (depending on the weapon) Among weapons like pistols and different machine guns, you also acquire a grenade launcher, exploding foam gun, missile launcher, grappling hook,and more. These weapons are not only used to take out enemy forces you encounter, but also open up certain passages to gain access into ventilation ducts, storage rooms, and even used to destroy the occasional bolder blocking your path. Your most important item in your arsenal – your flashlight. Not only does it help you to see in dark areas, but reveals specific colors of entry points, depending on the color tells you what you need to open that entry point – grenade, foam, bullets, etc.
In addition to trying to find out what exactly is going on in this facility, you stumble upon a suit that almost looks like something used by NASA's astronauts, or some sort of deep sea diving. After you obtain the suit for your own use, you have to locate the missing components that are spread through out the compound. Each component will give you the ability to do a number of different things, from the ability to run extremely fast to break through certain objects, or ever across the surface of water, to being able to swim underwater for long periods of time.
Now Shadow Complex isn't a typical run & gun type of game, there is some thinking involved as well. As you venture around the facility, your map expands, showing you areas where you've been and general hints to where hidden upgrades are located. It's up to you to figure out how to get to them when one is near by. One thing I found impressive was the aiming system. Even though Shadow Complex is technically a side-scroll format, enemies in the back drop areas can be targeted and taken out just as easily as those coming from your left or right. (Don't forget to look up and down as well).
Controls are pretty simple, analog stick to move, trigger button to fire, basic run, jump, crouch controls are extremely quick to pick up on. A few flaws here and there, but the game is that good, that you can easily look beyond them. On occasion, enemies or robot gun turrets will be just slightly off screen where you can't see them while they start shooting at you. After you enter further into that area, they will be exposed and therefore making the task of relieving them from active duty a lot easier.  Aside from a map that could be a little confusing to try to figure out how to get from point A topoint B it's easy to find yourself going around in circles, Shadow Complex is one of the funnest Xbox Live Arcade games I've played. There is a free demo available to download, which gives you a good taste of what's involved in the game, but trust me, it's only a small portion of the buffet. For 1200 Microsoft points you get the All You Can Eat buffet.
This game was reviewed on the Xbox 360.
---
Graphics are good, game play keeps you hooked, melee cut scenes never get old, hours of game time
Slightly confusing map, real easy to go in circles, targets off screen at times
Final Verdict:
SUPERB
For 1200 Microsoft points you get the All You Can Eat buffet.
A copy of this game was provided by Developer/Publisher/Distributor/PR Agency for review purposes. Click
here
to know more about our Reviews Policy.