The roar of the crowd when you opponent's name is called, the rush you get when the bell rings to start the battle as you dance to the center of the octagon and then ensue the art of survival. You land a few jabs, followed by a hook that lands square and dazes your enemy.  Take a step back and assess the damage then move in for the kill. One punch after another in combination with a few kicks, then from out of now where? BAM !!! Your light are out, mouth piece is airborne and you fall to the canvas like rag doll. You then find yourself standing to one side of the referee while the victor's hand his raised as he just defeated you with a desperation blow that caught you on the chin and ended the fight.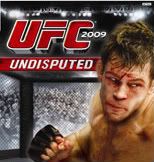 Any one who is a mixed martial arts fighting fan can probably think back to match that may have followed this same script, those who have played THQ's UFC UNDISPUTED may have actually had matches very similar to this as well. Well, I can assure you those who haven?t yet played this game and think it's nothing more than "just another fighting game"? You couldn't be more wrong.
The career mode starts off with you creating your own fighter. Everything from height, weight, which will automatically assign you to a weight class (so don't think you can create a monster like Brock Lesnar to fight in the lightweight division).  You can also customize your fighter with an assortment of tattoos, trunks, ankle/knee braces and what color mouthpiece.  You can give your fighter a name,where he was born, what city you fight from, and pick a nickname from a list already in the game, announcers will only call you by your nickname? My favorite was The Grim Reaper as Michael Buffer seems to put a little heart in announcing that one. After you've spent all that time into creating you fighter, it's time to get thrown to the lions and see if you have what it takes to make it in the UFC. You get greeted by Dana White, who pretty much lays it on the line and tells you straight up what he?s looking for. If you can't deliver, I guess there's always Mario Kart.
Overall THQ exceeded my expectations, I remember a number of years ago having a PRIDE Fighting game on the Playstation console that in my opinion was horrible. All I can remember from that game, was if the computer got you down, that was it. Most of the fights were over in a matter of seconds. In UFC UNDISPUTED, the fights go pretty much as they do in real life, so the UFC?s motto ?As real as it gets? definitely carries over intothe game quite nicely. As you progress through your training in the career mode, you unlock abilities to pull off reversals, new striking moves, and submission holds. Each fight you are awarded points which accumulate to unlock sponsors, who?s logo?s can be added to your trunks and earn more points per fight (more on that to come soon), also the points unlock the ability to upgrade the equipment in the he gym to allow your training between fights to be more beneficial and boost your attributes.
Now, aside from the fan favorites included in the game, fighters like BJ Penn, George St. Pierre, Rich Franklin, Chuck Liddell, and the aforementioned Brock Lesnar, just to name a few of many who are included in the game. Most fighters characters look really close, everything from unique tattoos and hair styles, right down to the cauliflower ear on Wanderliei Silva. During fights, cuts open up and with each shot to that area, a sprinkle of blood will cascade onto the canvas. After some fights I've had,there's been a little as if someone suffered a small paper cut, or to the other extreme where the cage should be roped off as a crime scene..
Game play is fairly easy and quick learning curve is in place. Depending on the style of fighter you choose (wrestler, Brazilian Ju-Jitsu, Muay-Thai, kickboxing, judo, or boxing). If you bring up the list of moves available see how many different combinations there are, it may seem overwhelming. After a while, you'll find a few select combinations or moves that are easy to pull off during a match and work for you. Before you know it, Dana White will be putting the championship belt around your waist it's up to you after that to make sure it stays there..
A few things that are a turn off and hopefully if another UFC game is to come, these issues are addressed. Between matches, training feels really empty. You can spar and earn attribute points to boost your fighter?s skills, and you can also accept an invitation to train with another fighting camp in which you can unlock new moves. Actual training though is nothing more than deciding if you want to do cardio, strength, or speed training. You then must make sure to keep track of how many weeks until your next fight to be sure you allow enough time to rest, otherwise your next fight could be a short one, and you may not like the out come. Some sort of mini game for these types of trainings may have filled this void. Adding logos to your shorts to earn additional sponsorship points almost doesn?t seem worth the hassle as navigating the menus the do this feels very cumbersome and make the whole task seem like it?s not worth the extra trouble.
To sum up, UFC Undisputed is a must for the fighting fan, especially UFC fighting fans With the few little quirks that are easy to look past,  Graphics are good,the hit detection my be a little off at times, voice over work from regular UFC announcers Joe Rogan & Mike Goldberg and ring announcer Bruce Buffer is great, so over all I'd say definitely worth dropping into the tray and giving it some time.
This game was reviewed on the Xbox 360.
---
Actual UFC fighter roster, perfect for the fighting fan, good graphic excelent voice overs
Menu navigation is complex, emptyness feeling between scheduled fights, hit detection off at times
Final Verdict:
SUPERB
You think you can go toe-to-toe in the cage and survive? As UFC says, this is "as real as it gets!"
A copy of this game was provided by Developer/Publisher/Distributor/PR Agency for review purposes. Click
here
to know more about our Reviews Policy.